Drag

Drag Racing
Canadian Sport Compact Series originated at the Drag Strips of Canada for over 15 years and we haven't forgotten our roots.
CSCS has formulated 8 drag racing series classes that runs all day alongside the venue's Test & Tune.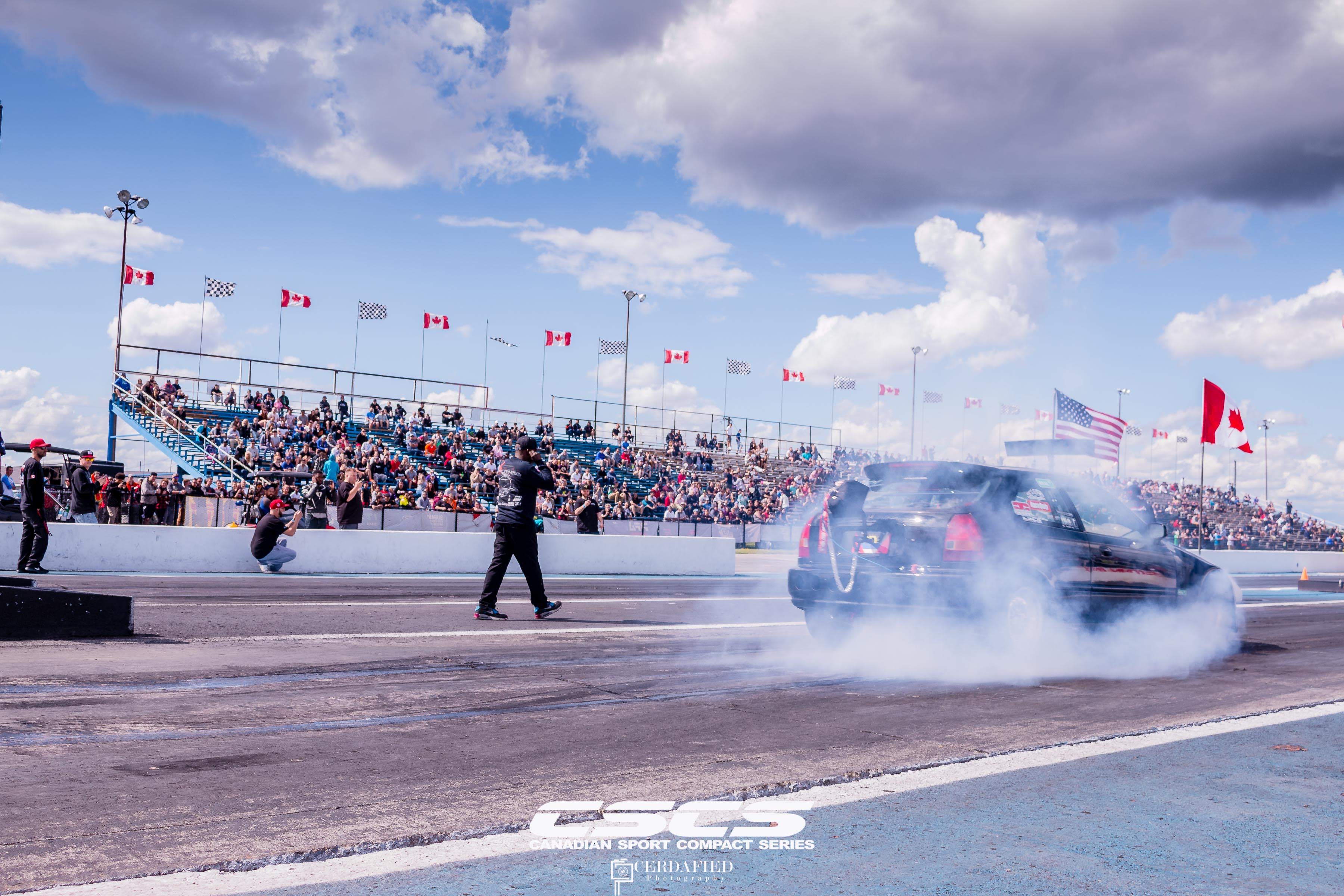 ---
What are the rules and regulations?
Please read our Official 2020 Drag Racing Rule Book
---
How do I sign up?
*Only certain events will have Drag Racing.*

Pre-registration will be open to sign up before each Drag Racing event.

Registration does not include Gate Admission.

Competitors will also be able to sign up at the event.

When you arrive to the track, you will buy a Tech Card for your Racing Class — one car and one driver.

Fill out your Tech Card completely then proceed to CSCS Tech Inspection for Safety & Car Number assignment.

Submit your Tech Card and confirm the class you're racing in to the Technical Inspector (NHRA-Approved Technical Inspector).

Once your car has completed the Technical Inspection, you should have:

(1)  Two-Letter Class on Front, Side and Rear Windows

(2)  Car Number — traditionally a three (3) digit number

(3)  CSCS Decals* — MANDATORY FOR ALL RACERS IN CSCS DRAG CLASSES — and to be clearly visible on both sides of the car.

(4)  Staging Lane Designation — your registered class has a dedicated staging lane for the whole day, even during Test & Tune.

Proceed to the Staging Lanes to make your first pass — welcome to CSCS Drag Racing.

---
Can anyone show up and race?
We accept and welcome all competitors of every level of Pro and Street Drag Racing

No Special Membership or Race License is required.

You need to have a car that has successfully passed Tech Inspection.

No full size Trucks/SUVs or Minivans will be eligible for CSCS Drag Racing Classes. (But Open to Test & Tune)

---
OFFICIAL CSCS Drag Racing Classes
1/4 Mile – Quarter Mile
Min. ET
Max. ET
PRO SPORT COMPACT
OPEN
OPEN
Pro-Race Cars with Track Modifications
PRO 8
OPEN
OPEN
Pro-Street Cars with Turbo, Tire & Weight Restrictions
PRO LIMITED
OPEN
9.50
Pro-Street Cars with Track Modifications
SUPER STREET
OPEN
10.50
Street Race Cars with Limited Track Modifications
STREET MODIFIED
OPEN
12.00
Modified Street Cars with Limited Track Modifications
PURE STREET
OPEN
13.00
Competitive Street Cars
SPEED TRIALS
OPEN
14.50
Stock & Productions Class Cars
V8 BRACKET
OPEN
OPEN
Open to any V8 powered vehicles. Mild to Wild
TEST & TUNE
OPEN
OPEN
Open to All Vehicle Makes & Models